We have been in lockdown now for over a month. There are lots of people dealing with this situation very well but for others this time is scary, lonely and confusing. As a Mum of 3 and a professional newborn photographer I'm naturally thinking about all the pregnant ladies out there having to prepare for birth during this pandemic.
You ladies are having to worry about not seeing your midwives face to face, worrying about attending scan appointments without the support of your partner and the anxiety of trying to understand the changing procedures within our hospitals. But you're also missing out on all the fun things that pregnancy brings like planning shopping trips with your Mum to gather bits and pieces for babies nursery or browsing the stores for cute little outfits. Not being able to have a gender scan or meeting new friends at antenatal classes and you're missing out on all the fun that would be had planning, preparing for and enjoying your baby shower.
With that in mind I thought I'd share with you a brilliant idea my American Sister-in-law living in Florida told me about. Over there, instead of a baby shower some new Mums prefer to throw a Sip and See party… 
What is a Sip and See?
A Sip and See party (some prefer to call it a bubbles and cuddles party) is similar to a baby shower except it takes place on a date set after the baby is born. It's usually thrown by a close family member or friend and the focus is mainly on the baby which gives Mum a chance to sit back and relax with a glass of bubbly! One of the main benefits to having a sip and see is that you can control the amount of visitors you get after leaving the hospital by letting everyone know there's a sip and see party planned later on that they are welcome to. 
How to host a sip and see Party
Pick a date when you know you might be feeling a bit better. Most Mum's tend to do this 2-3 weeks after the birth.
Plan out a theme, decorations, games and what nibbles you may decide to offer. You may even wish to create a gift list. You will likely have the majority of things you need by that point but everyone wants to greet a brand new baby with a gift so a list will be helpful to both you and them. Arrange a Zoom call or set up a group chat and get your friends and families involved, they've missed out too and I'm guessing they'll be only too eager to help.
I have created a Pinterest board with some ideas to get you started. You can find it here
Finally, think about sending invitations. I've created 4 super cute free downloadable Sip and See party invitations just for you.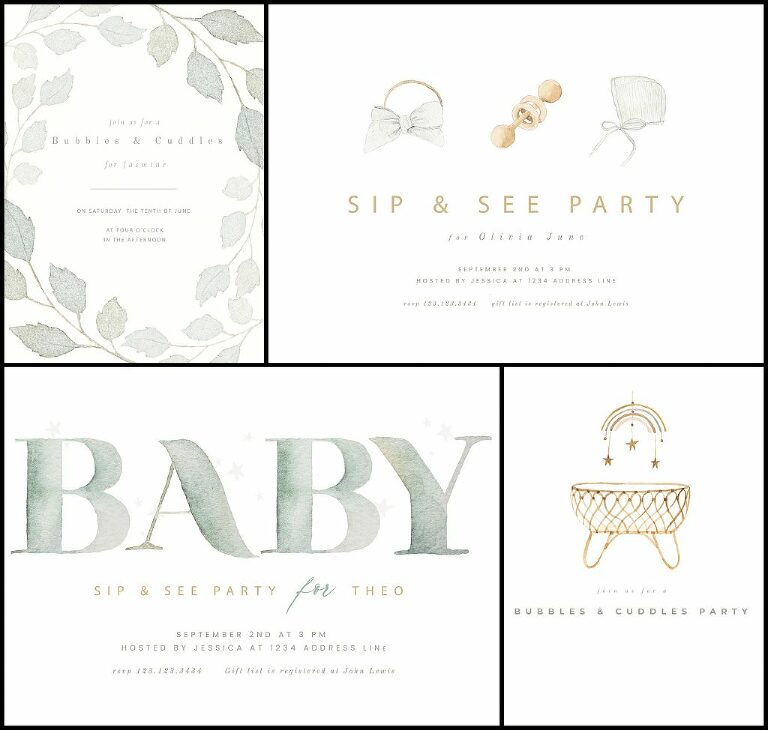 Download them here
I had a little chat with the lovely Eleanor to see what she had to say about having her own alternative baby shower:
How did you first hear about a sip and see party?
We first heard about the sip-n-see concept from our Canadian and American friends, who wanted to present their baby to family and friends after mum had recovered a bit from the birth and then the baby had received the first set of vaccinations.
Why did you decide to have a sip and see party?
We decided to have a sip n see twice because I was an older mum and wasn't sure how the birth would go. There were a few tragic losses in our circle and so a sip-n-see allowed parents to present a healthy baby at a sip-n-see rather than a baby shower before the birth.
How did you organise it, who was invited and did you use decorations?
I organised the parties myself by booking the venues and catering. All invitations were done online. There were a few decorations but all in line with the champagne afternoon tea theme. We invited colleagues and close friends. Our family were not around because they live in Canada.
What would you say to anyone thinking about throwing a sip and see party?
I would say it is extra special to have a party where the baby is present. The baby sleeps for most of the party but the guests love that they can actually see the baby is thriving and is well.
So you don't have to miss out! While this pandemic is looming over our heads and you have little bit of free time why not plan your very own sip and see party for when we are out of lockdown?
If you are a local Mum to be or have just given birth and would like to meet with others in exactly your situation and you need support then why not join my Facebook group? In there I share current, relevant information and I'm working hard with local businesses to bring you free live classes.
Find it here: New & Expecting Mum's together in isolation – Herefordshire
Much love
Jemma